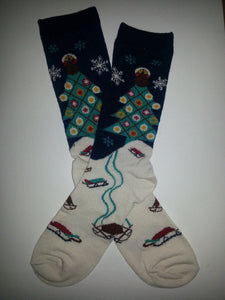 Women's Sledding Crew Socks
Regular price $ 10.00 $ 10.00 Sale
Santa shops here.
Kick off your holiday shopping with these Christmas socks to keep you warm all throughout the season!
If you want to give these as a gift or hang onto these to be the star of your office Christmas party - they are a great choice. On top of that, for every pair sold - we donate an additional pair to help individuals in need. All the more reason to go ahead and get these as a gift (or treat yourself to a pair, too!)
See our sizing guide for typical sizing information.
As always, for each pair of socks we ship, we'll be donating that same number of pairs to help individuals in need.
Size: Adult Female