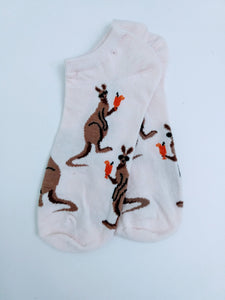 Women's Kangaroo Drink Ankle Socks
Regular price $ 5.00 Sale
Don't be an animal, wear socks!
For the animal lover in all of us, our animal socks are probably some of the most awesome on the planet. I'm guessing your a big fan of this animal in particular. Here is a secret: so are we. We dig almost all animals - except wasps, they can be real jerks!
This high quality pair of animal socks will help step up that fashion game so that everyone knows where your animal favoritism lies. Cat person? Dog person? Show off your favorite animal!
See our sizing guide for typical sizing information.
As always, for each pair of socks we ship, we'll be donating that same number of pairs to help individuals in need.
Size: Adult Female