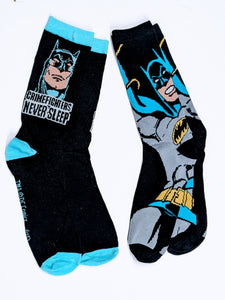 Men's Batman DC Comic Crew Socks
Regular price $ 10.00 Sale
What is your superpower?
These superhero socks are perfect if you are a fan of the strength, speed and overall awesomeness of superheroes. If you are indeed a fan of everything that Superheros represent, then these Socks & Souls Superhero socks will be right at home in your wardrobe!
You get the Superhero socks you want magically delivered straight to your mailbox, and someone in need will also get the same amount of pairs of socks given to them too - talk about a dynamic duo, we work well together!
See our sizing guide for typical sizing information.
As always, for each pair of socks we ship, we'll be donating that same number of pairs to help individuals in need.
Size: Adult Male