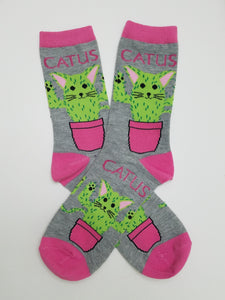 Women's Cat Cactus Crew Socks
Regular price $ 10.00 Sale
Get these right meow!
The purrrrfect cat themed socks are a must have if you love felines so why not treat yourself to these? Make sure and check out the related items, because we have a lot of different cat socks, not just this pair!
Getting these as a gift? Lucky for you, we have tons of friends who love cats and these are the perfect gift for them (they told us)! These are a great choice.
See our sizing guide for typical sizing information.
As always, for each pair of socks we ship, we'll be donating that same number of pairs to help individuals in need.
Size: Adult Female