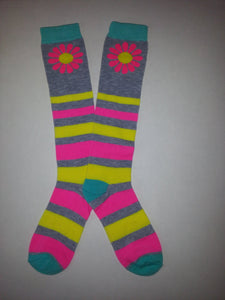 Women's Flower w/ Stripes Knee High Socks
Regular price $ 10.00 $ 9.00 Sale
Like people, plants respond to a little extra attention to pay some love to your feet!
These plant themed socks will have you enjoying all your spare time too since you do not need to waste any time watering them.
So plant these socks on your feet and watch your love for socks grow as you reap the benefits of their seeds!
See our sizing guide for typical sizing information.
As always, for each pair of socks we ship, we'll be donating that same number of pairs to help individuals in need.
Size: Adult Female