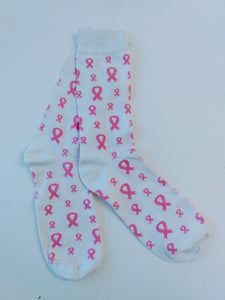 Women's Breast Cancer Ribbons Crew Socks
Regular price $ 10.00 Sale
Sock-it to breast cancer!
Cancer sucks - we can all agree there. At least with these socks you can look amazing while showing your support against that terrible foe.
While October is Breast Cancer Awareness Month, every month is important when it comes to to increasing awareness of the disease so why not sport some Breast Cancer Socks?
Many of our Official Breast Cancer Awareness Socks were created by Gina Group who is a proud sponsor of the National Breast Cancer Foundation, Inc.
See our sizing guide for typical sizing information.
As always, for each pair of socks we ship, we'll be donating that same number of pairs to help individuals in need.
Size: Adult Female