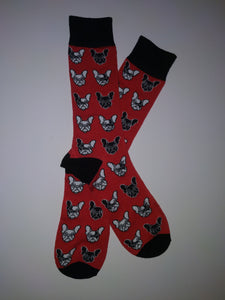 Men's Boston Dog Head Crew Socks
Regular price $ 10.00 $ 9.00 Sale
You'll get some extra sniffs...
...but don't blame us. FYI THESE SOCKS RUN TIGHT DO TO EXTRA STITCHING!
Our dog socks have some of your favorite pooches lookin' as sweet and stylish as ever. You'll have all the neighborhood dogs wishing they were your dog.
Don't be surprised if your dog gets a little jealous when you're lounging around in these though, these socks are just that awesome.
See our sizing guide for typical sizing information.
As always, for each pair of socks we ship, we'll be donating that same number of pairs to help individuals in need.
Size: Adult Male