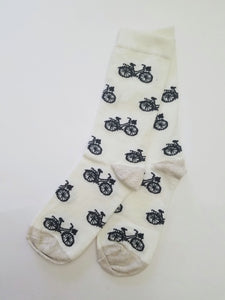 Women's Bicycle Outline Crew Socks
Regular price $ 10.00 Sale
Stand out as your feet ride along in these socks!
These unique Transportation Novelty Socks will have you being talked about in all the right ways while you travel along your journey. Fun patterns, unique designs and awesome images that will absolutely set you apart from the pack on your way to your destination.
Please note that these socks do run small as they fit tight! See our sizing guide for typical sizing information.
As always, for each pair of socks we ship, we'll be donating that same number of pairs to help individuals in need.
Size: Adult Female