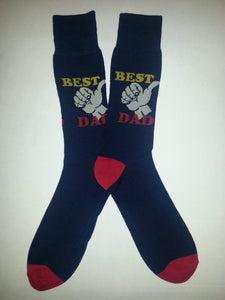 Men's Best Dad Crew Socks
Regular price $ 10.00 $ 8.00 Sale
Your dad is amazing!
Just in time for Father's Day - Father and Grandpa themed socks!
These pairs of premium socks are available for a limited time only so make sure you show your Dad, or Granddad, you care by picking up a pair of these awesome Father's Day socks that say just how awesome they are!
Get two pairs, a pair for both your dad and granddad, and we will offer you 15% off your total with discount code FATHERS!
Or even better, add on a monthly subscription to Socks and Souls for Dad so he gets a gift that keeps giving!
See our sizing guide for typical sizing information.
As always, for each pair of socks we ship, we'll be donating that same number of pairs to help individuals in need.
Size: Adult Male