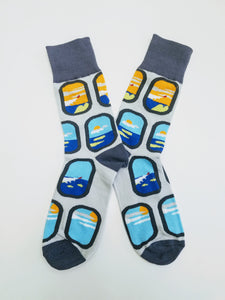 Women's Airplane Window Crew Socks
Regular price $ 10.00 Sale
Every day there are approximately 200,000 flights around the world which means millions of socks are flying above our heads every single day!
Speaking of flights, did you know that some celebrities fly jets and airplanes themselves, like Tom Cruise (Gulfstream IV), Jimmy Buffett (Dassault Falcon 900), and John Travolta who owns eleven jets, including a Boeing 707. Well we all might not be able to fly our own planes, but we can at least have them on our feet with these Airplane Jet Socks!
Oh, and in case you didn't know, for every single pair of Aviation themed Socks purchased from Socks and Souls, a pair of socks will also be given away to someone in need with our 1 for 1 sock motto! So just think, so you will be warming multiple souls with these fantastic flying soles! 
Please note that these socks do run small as they fit tight! See our sizing guide for typical sizing information.
As always, for each pair of socks we ship, we'll be donating that same number of pairs to help individuals in need.
Size: Adult Female